Toilet no Hanako-san vs Kukkyou Taimashi 01 (English Sub) | Download
トイレの花子さんVS屈強退魔師 ~悪堕ちマ○コに天誅ザーメン連続中出し~ 第一怪 怪奇『トイレの花子さん』! 悪堕ち巨乳の吊りスカート
Romaji:
Toilet no Hanako-san vs Kukkyou Taimashi 01
Japanese:
トイレの花子さんVS屈強退魔師 ~悪堕ちマ○コに天誅ザーメン連続中出し~ 第一怪 怪奇『トイレの花子さん』! 悪堕ち巨乳の吊りスカート
Release:
26.02.2021
Censored:
Yes
Subbed:
English
Rating:

9.6

24

Tags:
Kongo Masurao, a demon master, visits an eerie abandoned school building in a certain town.
A ferocious evil spirit lurks there.
Her name is Toilet no Hanako-san!
Hanako-san, who has been invaded by an evil force and gained powerful spiritual power, has changed her appearance from what it used to be!
Her shirt is pushed up and her big tits are caught in the suspenders.
Her thighs stretching out from her red skirt and her huge buttocks sticking out.
Hanako is covered in grudge, but Vajra does not give in.
He puts his holy power into his cock and uses his semen to purify the evil spirits!
I'm not sure what to make of that.
It's time to give the evil cunt a taste of its own medicine!
In the middle of the night, in a school bathroom where no one is supposed to be.
I'm not sure if you've heard of it, but I'm sure you've heard of it.
Hentai Movie Downloads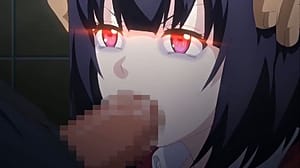 114.78 MB
Related Downloads