Oide yo! Shiritsu Yarima x Rigakuen 03 (English Sub) | Download
おいでよ!私立ヤリまxり学園 「おしめっ娘JK・静流~お漏らし緩む尻穴ビーズ」
Romaji:
Oide yo! Shiritsu Yarima x Rigakuen 03
Japanese:
おいでよ!私立ヤリまxり学園 「おしめっ娘JK・静流~お漏らし緩む尻穴ビーズ」
Release:
25.08.2017
Censored:
Yes
Subbed:
English
Rating:

11.0

1

Tags:
Younger Shizuru-chan of grade-skipping, pretty girl JK of bobbed hair style. It was a girl named Iron Maiden, a virtuous beauty virgin, from being surprised and escaping when spoken to. The Shizuru-chan who doesn't care being alone, actually extreme tension constitution. Moreover... with leaking. An indispensable item of Shizuru-chan who tenses anytime and anywhere... Diaper.

Such Shizuru arrives at a old schoolhouse to escape from fastidious chairman Mira-san. Usually, no one is in this place, to leave strict Mira-san who is like an obliging wife, the best place for becoming alone. When he who escaped somehow rushed into the restroom in relief today...

[Hi, hiii, sorry, dont be rough, noooo!]

Suddenly in front of him who surprises to the scream, the door of the private room toilet was left open, the diaper is removed, squatting down, Shizuru-chan who rubbed with the fingertip between groins. However, it was more amazing than it was a disproportionately big fist anal bead, which came out of that cute ass.

[You should lower the skirt because it doesn't attack it]

However, Shizuru has been angry at him who had the air of a gentleman and responded

[The little girl of diaper... Favor, right?]

Regrettable in a shameful expression, Shizuru-chan got up quickly and lifted voluntarily the skirt hem to expose between groins...
Hentai Movie Downloads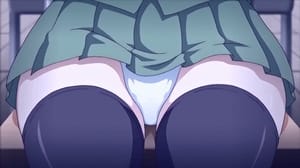 192.75 MB
Related Downloads