Youkoso! Sukebe Elf no Mori e 02 (English Sub) | Download
OVA ようこそ! スケベエルフの森へ #2 ニンゲンのチ○ポなんかに…負けて、たまるか…っ
Romaji:
Youkoso! Sukebe Elf no Mori e 02
Japanese:
OVA ようこそ! スケベエルフの森へ #2 ニンゲンのチ○ポなんかに…負けて、たまるか…っ
Release:
02.03.2018
Censored:
Yes
Subbed:
English
Rating:

4.0

13

Tags:
Alfheim, a world of elves where women only exist. The world Shrine, the source of all the elves magical power, has started to fade and the race was in danger of extinction. Then there is a prophecy that a man from another world is destined to be the savior of the elven race. And it was not too long the hero is now brought to the world of Elves...

To the village of the Elf filled with such hope, Suddenly "Dark Elf" army raids. The dark Elf on the verge of the edge of extinction just like the Elf,
Toward Yuuichi "Tonight, come to this place alone... Otherwise... The village is destroyed" it reports.
Hentai Movie Downloads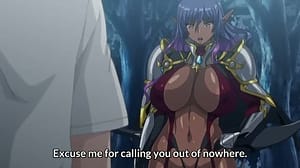 133.33 MB
Related Downloads