Gakuen de Jikan yo Tomare 01 (English Sub) | Download
学園で時間よ止まれ 止まる日菜と動く香奈子。 固まる白濁液と流れる破瓜の血 編 | Stop by Time at the School
Romaji:
Gakuen de Jikan yo Tomare 01
Japanese:
学園で時間よ止まれ 止まる日菜と動く香奈子。 固まる白濁液と流れる破瓜の血 編
Synonyms:
Stop by Time at the School
Release:
29.05.2015
Censored:
Yes
Subbed:
English
Rating:

5.0

12

Tags:
Students in the distinguished family Seren woman school are looked at, there was a man of alone to which a suspicious smile was expressed. Seren woman school, the Miss of power and means who grasps politics and the economy of every country in the world commutes, super-young lady school. A man, "A certain grudge" was held in such Seren woman school.

He on a certain day, is suddenly handed over the "Stop gun of time" by the person of mystery. Though at the start it did not believe, it sneaks into Seren woman school when it is understood that the power is a real thing, certain sisters are made a target.
Hentai Movie Downloads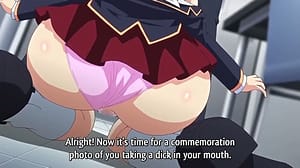 344.21 MB
Related Downloads