Futabu! 01 (English Sub) | Download
ふた部! 前編 | Futa Club!
Romaji:
Futabu! 01
Japanese:
ふた部! 前編
Synonyms:
Futa Club!
Release:
21.02.2014
Censored:
Yes
Subbed:
English
Rating:

5.9

7

Tags:
To the room in a gloomy old schoolhousen, new member Akane of alone that enters timidly. To the presence, Aya and Ai intertwined violent. Loli director Mao is reading by the side. Kaoru introduces it one by one, fellatio and bukkake tournament of the test of joining a club starts immediately.

With the panting voice that flits violent, a large amount of semen fired one after another!! And Mao with a secret who saw that scene and had been doing hesitantly... Though the phimoses penis of usually small cute Mao, different personality seemed to appear when blood is filled to a penis!! To a magnificent dignified that appearance, everyone is astonished and pays one's respects!?
Hentai Movie Downloads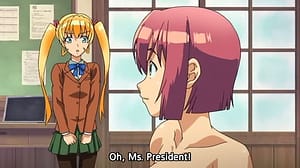 100.38 MB
Related Downloads