Ryou Seibai! Gakuen Bishoujo Seisai Hiroku 02 (English Sub) | Download
凌成敗!~学園美少女制裁秘録~ 若菜と咲と、成敗の終わりと……編
Romaji:
Ryou Seibai! Gakuen Bishoujo Seisai Hiroku 02
Japanese:
凌成敗!~学園美少女制裁秘録~ 若菜と咲と、成敗の終わりと……編
Release:
26.07.2013
Censored:
Yes
Subbed:
English
Rating:

Tags:
With Yamiko, Kyoichiro who starts the revenge of the sister-in-law Saki, Three people who are the main persons of manaseikai, Kobi Urumi, Mukui Kuu and Wakana Manabe is involved in the event is ascertained. It gives in the beginning the punishment of semen smear to popular idol Kobi Urumi, Information on the following target Mukui Kuu is drawn out. And Kyoichiro who gives Mukui Kuu the punishment of rape. Though it cornered immediately before the event is regretted, Mukui Kuu to be at a loss accomplishes forced double-suicide with the male teacher who draws the thought.

The remainder is one person. Kyoichiro who keeps giving violent punishment to Wakana Manabe who is student council president. However Wakana with a strong M attribute, It doesnt try to accept ones own faults easily. That sort of inside, The desire of S attribute that lurks in Kyoichiro flowers...
Hentai Movie Downloads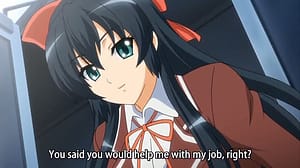 163.26 MB
Related Downloads