Mihitsu no Koi 01 (English Sub) | Download
未必の恋 ~親友のカレシ~
Romaji:
Mihitsu no Koi 01
Japanese:
未必の恋 ~親友のカレシ~
Release:
27.10.2023
Censored:
Yes
Subbed:
English
Rating:

8.2

5

Tags:
Sports girl Yuinka is a beautiful girl whose daily routine is to admire her best friend Risa.
Her best friend, Risa, is a beautiful and good-natured girl, but she is a simple girl.
However, she has an older boyfriend.
Risa's boyfriend is Risa's enemy, Yuinka says that she is not good with men and that he seduced her best friend.
The resentment of the love affair heard from Risa, who is absorbed in it, is also coupled with a further hatred that is directed without being able to hide it.
The older boyfriend is the ideal boyfriend who takes care of Risa and ignores Yuinka's arrogance...
The relationship between two such beautiful girls plus a man begins to change indecently after one thing happens...
Yuinka unexpectedly witnesses Risa's slutty appearance that she only shows in front of her boyfriend.
The heat that burns inside her womb rushes through her with anger and impatience, as she witnesses the sloppiness of a woman who is far removed from the usual Risa.
Yunika can't get the shocking scene out of her head... and in front of her eyes... was the dangling hand of Risa's boyfriend, who was lying down after getting tired of playing...
Hentai Movie Downloads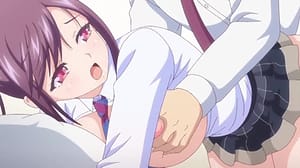 257.75 MB