Majo wa Kekkyoku Sono Kyaku to The Animation 02 (English Sub) | Download
魔女は結局その客と。。。 THE ANIMATION 第2巻
Romaji:
Majo wa Kekkyoku Sono Kyaku to The Animation 02
Japanese:
魔女は結局その客と。。。 THE ANIMATION 第2巻
Release:
27.10.2023
Censored:
Yes
Subbed:
English
Rating:

Tags:
The witch, Mojigawa-san and her customer Leo-kun are lovers.
Leo's demands escalate each time they meet and eventually she finds herself caught up in a whirlpool of pleasure, even though she refuses.
During these days, her mother, Mamma, a witch noticed that her daughter's magical power was decreasing, due to having too much sex with Leo.
However, as she watched the situation between the two of them through a crystal ball, her body started to heat up...
Hentai Movie Downloads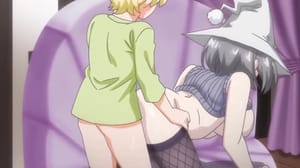 333.25 MB
Related Downloads