Junjou Decamelon 02 (English Sub) | Download
純情デカメロン2[琴義弓介]
Romaji:
Junjou Decamelon 02
Japanese:
純情デカメロン2[琴義弓介]
Release:
13.10.2023
Censored:
Yes
Subbed:
English
Rating:

9.0

1

Tags:
"Episode 3: I'm going to be a model!"
Kaede and Seiya are appointed by Ikkaku Rose to the library committee in order to have a healthy relationship.
However, she is unable to live up to her expectations, and her mischievous spirit swells without hesitation of her appearance.
Rose, unable to bear to see this, allows Kaede to experience being a drawing model.
As she expected, when she received attention from those around her, she couldn't contain her excitement and decided to have Rose, who was present at the time, join in as well.
The serious Rose was intoxicated by the sensation for the first time as Kaede pulled her along.

"Episode 4: I'm Crying"
The Ikkaku Rose finally blooms!
Ever since the drawing model incident, she had been captivated by anal, solo play.
She was calm at school, but she was secretly working on her anonymity.
In the library, she puts her finger up her anus as usual, then Inuda appears and confesses his feelings to her.
Meanwhile, on the other side of the bookshelf, Kaede and Seiya, who were watching the scene, were also united in their feelings.

"The Last Episode: We'll Always Be Together!"
Kaede and her group were out at sea for seaside school.
Night fell and a stargazing party was to be held, but there was still no sign of people gathering.
Seiya tells Kaede that it is safe to take off her clothes on this beach now, Kaede takes of all her clothes and has a great time on the beach.
Seeing her so free and happy, Seiya's thoughts were swelling.
Hentai Movie Downloads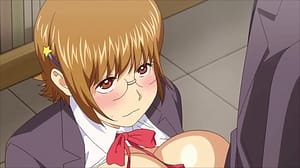 204.26 MB
Related Downloads