1LDK JK Ikinari Doukyo Micchaku Hatsu Ecchi 02 (English Sub) | Download
1LDK+J系 いきなり同居?密着!?初エッチ!!? 第2話
Romaji:
1LDK JK Ikinari Doukyo Micchaku Hatsu Ecchi 02
Japanese:
1LDK+J系 いきなり同居?密着!?初エッチ!!? 第2話
Release:
06.10.2023
Censored:
Yes
Subbed:
English
Rating:

8.2

5

Tags:
Akane Misaki and Ken Hasama have to live together for a week due to a contractual error by their landlord.
Although he was a stranger, Akane was concerned about him, fixing his crooked necktie.
Hasama also prepared a meal for Akane when she came home tired, and he seems to be taking care of her.
The time spent in conversation was something I had never experienced when I spent time with my family.
Akane begins to organize her bag so that Hasama does not realize that she is beginning to feel comfortable in this life.
Then she realized that the three-way interview was tomorrow.
Akane ask to pretend to be her uncle and asks him to come out. Hasama has no intention of going, but he understands Akane's situation and agrees to help.
The next day, after successfully completing the parent-teacher conference, Hasama wanders around the school for a nostalgic moment and arrives at the stairs leading to the rooftop, where no one is around.
Two people reflexively hiding from someone who suddenly passes nearby, have close physical contact.
Perhaps because of the atmosphere of the place, which was said to be a place for fucking, Hasama's hands began to rub Akane's ass.
Hentai Movie Downloads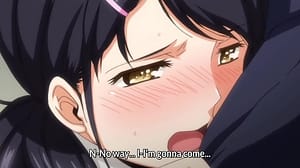 175.61 MB
Related Downloads