Kokuhaku 02 (English Sub) | Download
告白…… ~ふわパイオトナギャルの覚悟~
Romaji:
Kokuhaku 02
Japanese:
告白…… ~ふわパイオトナギャルの覚悟~
Release:
29.09.2023
Censored:
Yes
Subbed:
English
Rating:

10.0

2

Tags:
Please don't do anything terrible to Hina anymore.
The safe and naive teacher in front of her was the man on screen who fucked her as he pleased...
Rio desperately endures her fear and pleads for her best friend to stop the indescribable act that is happening to her.
However, her actions toward her friendship instantly plunged her into the depths of obscenity...
Please, please don't let it fall apart...
The meaning of her frustrated glare changed when she pulled up her own uniform and showed off her big tits.
Rio was forced to gently wrap up the hateful cock and carefully move up and down...
No, no, I didn't.
The humble bully girl Hina-chan was forced to take a special private lesson in XX chair torture for her blunder once again...
Hentai Movie Downloads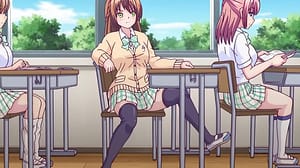 283.8 MB
Related Downloads