Creampie Festival for the Extreme Lewd Idol Unit! Popular Idols with Big Breasts beg me to Impregnate them 01 | Download
過激ド淫乱アイドルユニットに中出し祭りっ!爆乳人気アイドルたちに受精を懇願されて
Romaji:
Creampie Festival for the Extreme Lewd Idol Unit! Popular Idols with Big Breasts beg me to Impregnate them 01
Japanese:
過激ド淫乱アイドルユニットに中出し祭りっ!爆乳人気アイドルたちに受精を懇願されて
Release:
23.09.2023
Censored:
Yes
Subbed:
No
Rating:

10.0

1

Tags:
Do you know?
How the balance of human reproduction is maintained.
The fact that there is a being called a "sex angel" who sprays a body fluid with an overly powerful aphrodisiac effect like rain from the sky...

The main character, Yamato Ogami, is on his way on the road,
An unfortunate(?) virgin businessman who was exposed to a large amount of mysterious mucus that fell from the sky.
Today is the day of the live broadcast special of Exposed Idol that Yamato was looking forward to.

Exposed idols are immensely popular in the street today.
The girls perform on stage in their skimpy outfits, peeing standing up, giving fartjobs, spurting tits, and other extreme performances.

One of the most popular is the Love Lotion.
The unit consists of three members: Airi, a girl with big tits, Saaya, a gentle, busty older sister, and Kurumi, a whip-smack body with chemo-ears and a tail.

The performance of the love lotion puts a tail between Yamatos legs, which have been horny ever since he was covered in the mucus.
However, he decided to hold back and go to bed because he was on a one-month masturbation ban in order to get nude in the Love Lotion bonus video that will be released tomorrow.

In the middle of the night, Yamato wakes up suddenly to a strange feeling in his dick,
What a sight to see Saaya from love lotion, munching on his cock with all her heart!
Moreover, he asked me to make Saaya and Kurumi cum and then seed them to...

I dont know whats going on, but when the idols of my dreams come at me, I have no choice but to fuck them!

・Thanks to the sex angels mucus (love juice) falling from heaven, my virginity is being targeted!?
・The three members of my favorite idol group, Love Lotion, suddenly start serving me in my room.
・Deepthroat Kurumis small throat. Shake it down like a masturbator and ejaculate straight into the stomach!
・Hyottoko has a fart job and incontinence orgasm while fainting due to blowjob
・Saaya, who is full of confidence in anal play, immediately exposes her ahegao face and cries while having a spectacular semen orgasm.
・After making both of them cum, I ride my favorite Airi who has a super cute and lewd body.
・Guaranteed to be pregnant, I tried to inseminate Airis vacuumed virgin pussy, but she fainted and acme just by inserting it.
・While Airi was passed out, other top idols came to my room and created a 7P harem.
Hentai Movie Downloads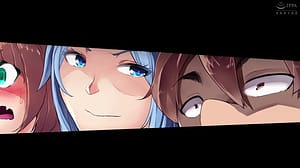 372.98 MB