Dosukebe Kyonyuu JK-tachi to Amaama Namahame Beach - Inaka de Mitsuketa Tanetsuke Senyou Resort 01 | Download
ドスケベ巨乳●●たちとあまあま生ハメビーチ 田舎で見つけた種付け専用リゾート The Motion Anime
Romaji:
Dosukebe Kyonyuu JK-tachi to Amaama Namahame Beach - Inaka de Mitsuketa Tanetsuke Senyou Resort 01
Japanese:
ドスケベ巨乳●●たちとあまあま生ハメビーチ 田舎で見つけた種付け専用リゾート The Motion Anime
Release:
15.09.2023
Censored:
Yes
Subbed:
No
Rating:

10.0

4

Tags:
I'm back in the countryside where my grandfather lives, but there's nothing to do and I'm bored.
I came to the sandy beach, which is famous as a resort, and I saw a group of very cute girls with amazing bodies.
I couldn't help but follow them with my eyes.

I was backhanded by four girls with celebrity-like looks and gravure-like bodies,
They had sex on the beach, at a beach house, at a hotel, and without contraception!
They are all going to lose their virginity, get out of seeding, and even fall in love with each other.
The ultimate harem dream is right there.
Hentai Movie Downloads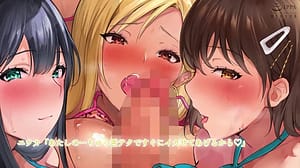 760.8 MB