Come on Succubus Share House | Download
おいでませ♪サキュバスシェアハウス The Motion Anime
Romaji:
Come on Succubus Share House
Japanese:
おいでませ♪サキュバスシェアハウス The Motion Anime
Release:
14.04.2023
Censored:
Yes
Subbed:
No
Rating:

Tags:
The three girls in the share house you move into are actually succubus and you end up getting pulled out all over the place...!

Misa is a bitchy eldest daughter who pretends to be calm,
The second daughter Rin looks naughty but is actually innocent,
The third daughter Mei is a paranoid M girl,
The story is about the main character who comes to live in a house where the three sisters live.

Drawn by the unbelievably low rent, he was delighted when he decided to move in,
but the house had a secret.

These three sisters are succubus, demons that attract men and feed on their semen!
Hentai Movie Downloads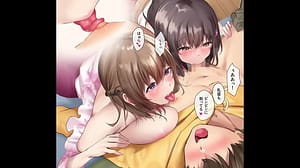 327.14 MB