Koumi to Shu 7 de Umeru Mesutachi 01 (English Sub) | Download
子産み島 ~週7で産めるメスたち~ #1
Romaji:
Koumi to Shu 7 de Umeru Mesutachi 01
Japanese:
子産み島 ~週7で産めるメスたち~ #1
Release:
28.03.2023
Censored:
Yes
Subbed:
English
Rating:

10.0

3

Tags:
The main character, Seiichi, enjoys traveling to remote islands and is a teacher by profession.
And, although he is a man of great capacity, he is not able to use this capacity to his fullest.
His days were unsatisfying.

One day, an acquaintance, the head of an island, asked for a favor,
He was transferred to Ushibi Island, a remote island commonly referred to as the baby-bearing island.

The "certain request" is...
By island custom, women on this island are specialized in their role as females,
It has evolved a peculiar constitution with only one week between implantation and birth.
It has continued to prosper on its own for hundreds of years.
It seemed as if the island would continue to prosper steadily but,
Because they have been mingled with all the close genes among the islanders.
It has become a state where ●● can no longer be born unless it is an outside gene.

The island chief's request is for the immensely talented Seiichi to be an outside gene.
"I want you to impregnate all the woman on the island."
That was what it was all about!

By island customs dedicated to her role as a female,
Women who want to satisfy men's instincts, who from the bottom of their hearts have the idea of male supremacy.
Women who feel the supreme pleasure in pleasing men and giving birth to children.
What will happen when Seiichi appears?
Hentai Movie Downloads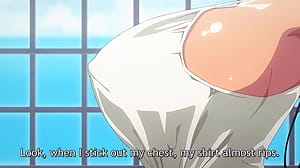 225.07 MB
Related Downloads