My Girlfriends Gal Sister Living Together Wants To Have Sex With Me Secretly | Download
同棲中の彼女のギャル妹が僕とこっそりセックスしたがる話 The Motion Anime
Romaji:
My Girlfriends Gal Sister Living Together Wants To Have Sex With Me Secretly
Japanese:
同棲中の彼女のギャル妹が僕とこっそりセックスしたがる話 The Motion Anime
Release:
26.08.2022
Censored:
Yes
Subbed:
No
Rating:

Tags:
Her younger sister 'Ayaka' comes to the room where he lives with her every day to play.
She is a popular gal at school who is also a model.

Is she showing me her thighs, flashing me her panties...is she seducing me?
One day, I was lusting after my sleeping sister-in-law's careless appearance, and I ended up masturbating while watching her...

The next day Ayaka, who smelled the thick scent of semen, begged me to have sex with her...
I'd wake up if someone poured that hot stuff on me, and I'd go wild if I smelled that strong.

I had to refuse, but I couldn't resist when she showed me her tits like this!
Tight and tight, welcoming my cock, soaked by nipple licking and hand job.
I like your brother-in-law's cock."
It was supposed to be a one-time ayamachi...
Drowning in a swamp of pleasure...
Hentai Movie Downloads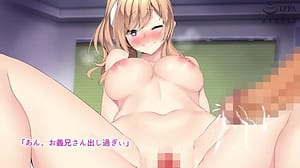 149.32 MB