Boku wa Tomodachi no Haha-san Haramasetai | Download
僕は友達のお母さんを孕ませたい。 モーションコミック版
Romaji:
Boku wa Tomodachi no Haha-san Haramasetai
Japanese:
僕は友達のお母さんを孕ませたい。 モーションコミック版
Release:
08.09.2022
Censored:
Yes
Subbed:
No
Rating:

10.0

1

Tags:
A beautiful, neat, and admired friend's mother.
I was secretly in love with my friends mother.

Takuya's mother, Miori, lost her husband several years ago and is now a widow, living alone with her son.
I was looking forward to meeting Takuya's mother and would often visit her house.

But it's not realistic for me to go out with my friend's mother, so I've decided to keep this longing in my heart...

Is it because he sees through such feelings, or is it to keep the man away from his mother, from his friend Takuya?
He was introduced to an application that allowed him to enjoy pseudo sex online.

I gave up on Miori and decided to use this app to seek other encounters.
I registered on the app under the name Kay and met an older woman named Mio.
We quickly became friends and continued our relationship as sex friends.

One day, after a while of doing that...
I was contacted by a friend who was also in a friend's house, so I moved to a bathroom where I could be alone, and happened to discover that the other person was also in the bathroom of the same house...

Yes, the other party was actually my friend's mother, Miori.
The two become secret accomplices, and their carnal desires are unstoppable...
Hentai Movie Downloads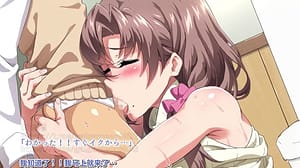 394.56 MB