The story of a 30-year-old virgin who was eaten by a newly graduated girl | Download
三十路童貞が新卒女子に喰われた話 The Motion Anime
Romaji:
The story of a 30-year-old virgin who was eaten by a newly graduated girl
Japanese:
三十路童貞が新卒女子に喰われた話 The Motion Anime
Release:
24.02.2023
Censored:
Yes
Subbed:
No
Rating:

10.0

1

Tags:
"Senior is actually a virgin, isnt he?"

Momoka Onoda is a newly graduated girl who just joined the company this year.
Earnest, affable, petite and cute (but with big boobs), she is popular within the company.
There is no shortage of men who want to get Momoka, even though she has publicly stated that she has a boyfriend.

However, the male employee who was in charge of education was not comfortable talking with her.
Because he is now 30 years old and still a virgin, although he hides it.
The more attractive the other woman is, the more he is put off.

One night, on his way home from a business meeting, the man is alone with Momoka.
A virgin man, in a drunken and pampered mood, gets nervous in front of a newly graduated girl who says she missed the last train and invites her to his house, knowing that it is sexual harassment...

"Shall I eat it for you, my seniors virginity?"

As soon as she went up to her room, Momoka revealed her hidden carnal nature.

A mans virginity, which he had guarded for 30 years, is easily devoured by a younger, and moreover, newly graduated girl from the company, and he has a shameful but too pleasant first experience.

Since then, the man has come to be treated as a convenient sex friend by younger girls with boyfriends.
Although his pride is hurt, he drowns in his young body like a baited dog...!

A slightly sordid love story of a secret carnivorous new graduate and a secret 30 year old virgin.
Hentai Movie Downloads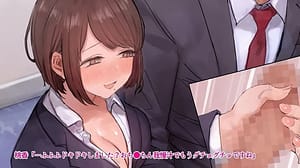 375.47 MB