Welcome to Bunny Girl Cafe - Lewd Training and Seeding Thick Copulation | Download
ようこそ!バニーガールカフェへ~淫乱調教・種付け濃厚交尾編~ The Motion Anime
Romaji:
Welcome to Bunny Girl Cafe - Lewd Training and Seeding Thick Copulation
Japanese:
ようこそ!バニーガールカフェへ~淫乱調教・種付け濃厚交尾編~ The Motion Anime
Release:
25.02.2022
Censored:
Yes
Subbed:
No
Rating:

Tags:
I have a beloved "push".
It is Hina-chan who works at a bunny girl cafe.

I dont know her real name or private life.
But I go to that cafe all the time because I want to see Hina-chan.

One day, I see bad rumors about the cafe on a summary site and SNS.
I dont want to believe it, because Hina-chan wouldnt do that.

My [Membership Rank] went up while still feeling uneasy.
No way, this is a rumor...

The relationship between the two will change dramatically after this day.
Hentai Movie Downloads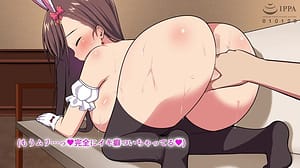 426.78 MB