3 Piece The Animation 01 (English Sub) | Download
スリーピース THE ANIMATION
Romaji:
3 Piece The Animation 01
Japanese:
スリーピース THE ANIMATION
Release:
27.01.2023
Censored:
Yes
Subbed:
English
Rating:

10.0

2

Tags:
3Piece - YUKATA
Mira, a beautiful blonde woman, sexually licks candy apples to attract customers at a summer festival where she opened a stall for a prize for the top seller.
Combined with her nice body, which was visible even through her yukata, the store was thriving!
When she and Yuji, who was supporting her, took a break, she switched her candy apple for a fat candy with a heightened sense of excitement... !

3Piece - Valentine
There was a loud noise coming from the kitchen!
Yuuji is puzzled by the unexpected happenings on Valentine's Day, but uses his tongue to lick the chocolate clean...!
Please enjoy a very sweet moment with Mira, a beautiful blonde!

3Piece - Maid Clothes
Mira, the mother-in-law and lover, is now dressed as a bespectacled maid to serve you in a lovey-dovey way!
After Yuuji blames her for her sunken nipples, Mila returns the favor with a full course of cumshot, tit-fucking and pussy licking to clean up the cum buildup!

3Piece - Diet
With his mother-in-law and lover, Mira is now wearing tight-fitting clothes for a sweaty workout!
The two are horny as hell after the face squatting that hit the whore directly in the face!
I'm going on an unhealthy diet by rocking my selfish body from below, from the front, and from behind.
Hentai Movie Downloads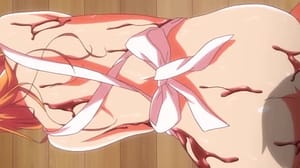 108.37 MB