Attic DVD -Creampie Exclusive Married Woman Property Looking For Residents | Download
屋根裏DVD ~中出し専用人妻物件 入居者募集中~ The Motion Anime
Romaji:
Attic DVD -Creampie Exclusive Married Woman Property Looking For Residents
Japanese:
屋根裏DVD ~中出し専用人妻物件 入居者募集中~ The Motion Anime
Release:
23.12.2022
Censored:
Yes
Subbed:
No
Rating:

10.0

1

Tags:
A young man who moved into a run-down apartment with a shared bath and toilet with a rent of 30,000.
The reason he chose that place was because of the landlord of the apartment he met while looking for a property.
She is Yuko Kuramochi, a widow who is a live-in caretaker.
A young man who falls in love with her at first sight thinks of getting closer.
During the semi-communal life, he became close to her, but...
I couldn't develop into a more intimate relationship than that and I continued to live a moyamoya life.

One day, while lying in his room, he notices that the ceiling board is slightly out of place.
When I reached out to fix the slipped board, the board was easily lifted.
Out of curiosity, I looked into the ceiling, there was a video camera and several DVDs.
"Is it something the previous resident hid?"
The young man was interested in the contents of the DVD and decided to play it on his laptop.
The video file showed a woman being sexually assaulted by a filthy man.
She seems to be threatened by grasping her weakness and accepts the insult from the man without resistance even though she looks disgusted.

AV? No... the image is unclear and the sound is hard to hear.
No matter how you look at it, the footage was shot by an amateur.
And the woman's voice sounded familiar.
The young man was late in noticing from the expression that he doesn't usually see.
The woman who exposes her skin in the video file and keeps getting fucked as much as he pleases...
She turns out to be Yuko Kuramochi, the manager of the apartment who he falls in love with at first sight.

Day after day, I am masturbating to DVDs as a side dish, but gradually I am no longer satisfied with just that and a certain thought begins to cross my mind.
"Isn't it possible for me to do the same thing if I use this DVD as a joke to blackmail Yuko?"
The young man, who was disgusted with the situation where there was no progress, decided to threaten Yuko.
Hentai Movie Downloads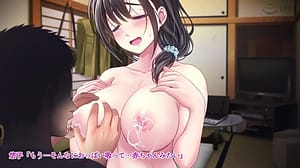 651.97 MB