The Big Breasted and Masochistic Student Trainee The Motion Anime | Download
巨乳でドMの教育実習生が生徒に飼育された話 The Motion Anime
Romaji:
The Big Breasted and Masochistic Student Trainee The Motion Anime
Japanese:
巨乳でドMの教育実習生が生徒に飼育された話 The Motion Anime
Release:
09.12.2022
Censored:
Yes
Subbed:
No
Rating:

Tags:
The main character who doesnt stand out as a shadow character and spends a boring school life.
It was such a school life, but one day a traine teacher came.

She has huge breasts and is insanely cute "Tanaka Moe".
Although the positive character in the class is exciting, the world in which he lives is too different from the main character.
Even if a teacher comes or if a transfer student comes, there will be no change in life.

After school, when he was cleaning by myself as usual, intern traine "Moe" talked to him.
Is it because the evaluation during teaching practice leads to the future?
She appeals to the main character who is a shadow character that she "does care".
She is frankly super annoying.

Try things...
He threatened, "Ill tell her teacher and lower her rating.
Let rub her big tits, he asks half desperately.

The main character naturally thought that he would be rejected, but Moes response was, "A little bit is OK!"

Surprised by her unexpected answer, the main character rubs her chest while his heart is pounding.
What a softness...
Hentai Movie Downloads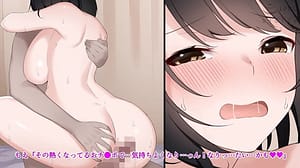 453.3 MB