Eroge de Subete wa Kaiketsu Dekiru! The Animation 02 (English Sub) | Download
エロゲで全ては解決できる! THE ANIMATION 第2巻
Romaji:
Eroge de Subete wa Kaiketsu Dekiru! The Animation 02
Japanese:
エロゲで全ては解決できる! THE ANIMATION 第2巻
Release:
25.11.2022
Censored:
Yes
Subbed:
English
Rating:

7.0

3

Tags:
Mikoshiba's talent for drawing is discovered by the head of the club, and he gathers the rest of the members in charge and joins the club's activities to create erotic games.
But all Mikoshiba does is have sex, recruiting female club members for sex and being used as their sex toy.
In this episode, he is threatened by Riko, who took a spy photo of him having sex with Saito-san, the scenario director and made to be a test bench for a new type of masturbator. When it ends, the director threatens him and forcibly pushes down the reluctant Himekami.
Hentai Movie Downloads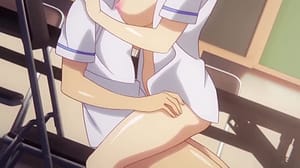 160.37 MB
Related Downloads