Korashime 2 Kyouikuteki Depaga Shidou 02 (English Sub) | Download
懲らしめ2~狂育的デパガ指導~ 義妹デパガ・穂波~魅惑の漏らし男根~
Romaji:
Korashime 2 Kyouikuteki Depaga Shidou 02
Japanese:
懲らしめ2~狂育的デパガ指導~ 義妹デパガ・穂波~魅惑の漏らし男根~
Release:
25.11.2022
Censored:
Yes
Subbed:
English
Rating:

Tags:
Manabu who was sentenced to be fired after being framed.
In order to get rid of his resentment, he began as a revenge demon and after cornering and humiliating Ayako, who was scornful and naive.
His drive to his former girlfriend Maya went beyond her misunderstanding and continued to punish her thoroughly...
Furthermore, he was furious at the betrayal of Honami, who had taken care of him as his sister-in-law.
Her neat face is distorted and sloppily scattered in miserable humiliation...
Nii-san, what are you doing, Yamete!
Manabu leans on Honami in bondage on the bed in the furniture department.
In order to teach the goodness of man who hates men and has turned into a lily maiden, he instructs her with his cock...
Hentai Movie Downloads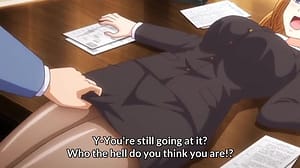 119.73 MB
Related Downloads