Kitsune Musume no Ecchi na Oyado 02 (English Sub) | Download
きつね娘のエッチなお宿 第二話 団体様もいらっしゃい! 女将のアソコは満員御礼
Romaji:
Kitsune Musume no Ecchi na Oyado 02
Japanese:
きつね娘のエッチなお宿 第二話 団体様もいらっしゃい! 女将のアソコは満員御礼
Release:
28.10.2022
Censored:
Yes
Subbed:
English
Rating:

9.5

4

Tags:
At a lonely hot spring inn deep in the mountains, a cute new landlady is very popular for her naughty services.
But the fox girl is not satisfied with the status quo.
I am seriously racking my brains to see if I can do more for our customers.
At that time, I received a good omen from God.
The idea was to please the customers with cosplay.
When you wear a uniform cosplay, you can be with a group of people and expose your cute ass or surprisingly big boobs. If you enter a sauna in a micro bikini, you can sweat comfortably with the users.
Yes, I want to mate with you too!
Will the fox girl be able to make the inn prosper?
In order to protect the ryokan that she inherited from the man who saved her life, the costumed little foxes will "put their bodie on the line" to serve you while you're cooking or cleaning the bath!
Hentai Movie Downloads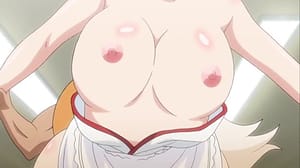 93.06 MB
Related Downloads