Natsuyasumi Ake no Kanojo wa 02 (English Sub) | Download
夏休み明けの彼女は… 後編
Romaji:
Natsuyasumi Ake no Kanojo wa 02
Japanese:
夏休み明けの彼女は… 後編
Release:
07.10.2022
Censored:
Yes
Subbed:
English
Rating:

10.0

2

Tags:
After the summer break, Kanade came to school and her appearance had completely changed from the days when she was neat and pretty and had black hair.
During the summer vacation, she was trained in sexual pleasure and turned into a dirty woman, and she went out with her classmate Reiji Matsuoka, whom she hated so much.
Nishida was about to open the club room when he heard voices inside.
In the room, Kanade and Reiji were intertwined.
Nishida can't accept that fact.
A week after that... Kanade stopped showing up at the clubroom.
Suddenly, Reiji came into the club room and asked if he could direct the video.
Unaware of what was going on, Nishida stepped inside the filming studio to find Kanade completely naked, blindfolded and hanging by her hands.
Puzzled, Nishida still hides his agitation and silently turns the camera around.
She was perfectly trained to be a slut behind the lens, stabbing her pussy with a vibrator and stabbing her anus with a meat stick, which was also seen by the viewers on the live stream.
Hentai Movie Downloads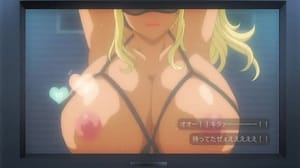 71.48 MB
Related Downloads