Kimi wa Yasashiku Netorareru The Animation 02 (English Sub) | Download
キミはやさしく寝取られる THE ANIMATION 第2巻
Romaji:
Kimi wa Yasashiku Netorareru The Animation 02
Japanese:
キミはやさしく寝取られる THE ANIMATION 第2巻
Release:
30.09.2022
Censored:
Yes
Subbed:
English
Rating:

10.0

1

Tags:
I'm sure Rio will respond to my feelings... it may take time, but I believe so...
Their relationship remains unchanged, each harboring hidden feelings.
Feeling impatient with the days passing by, finally decides to confess his feelings to Rio.
Meanwhile Kaito the older brother who came to the school as a graduate, brings Rio into the classroom where they spend time together...?
Hentai Movie Downloads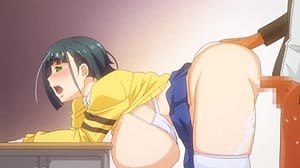 76.26 MB
Related Downloads