Karada de Kaiketsu Hyakkiya Tantei Jimusho 04 (English Sub) | Download
体で解決 百鬼屋探偵事務所 ~百鬼屋 光の妖怪事件簿~ 第四話 妖怪大戦争復讐劇
Romaji:
Karada de Kaiketsu Hyakkiya Tantei Jimusho 04
Japanese:
体で解決 百鬼屋探偵事務所 ~百鬼屋 光の妖怪事件簿~ 第四話 妖怪大戦争復讐劇
Release:
26.11.2021
Censored:
Yes
Subbed:
English
Rating:

7.8

12

Tags:
Hikaru and Tamakin are summoned to the mountains by Inspector Kimochi.
However, what awaits them there are the evil monsters that they had captured before!
The three youkai are bent on revenge against Hikaru, and they form a gang to stand in front of him.
Yes, the so-called boss rush!
"Well then, case closed. Turn yourself in!"
Tamakin is overwhelmingly strong as he faces off against the three attacking animals.
Tamakin wins the fierce four-way battle!
However, a mysterious woman appears in front of Hikaru and his friends. She has a history with Hikaru's parents, and is the mastermind behind .......
What is the fate of Tamakin the monster cat and Hikaru the Specter Detective?
Hentai Movie Downloads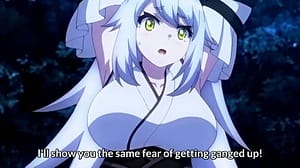 117.39 MB
Related Downloads