Mama x Holic - Miwaku no Mama to Amaama Kankei The Animation 02 (English Sub) | Download
ママホリック ~魅惑のママと甘々カンケイ~ THE ANIMATION 下巻
Romaji:
Mama x Holic - Miwaku no Mama to Amaama Kankei The Animation 02
Japanese:
ママホリック ~魅惑のママと甘々カンケイ~ THE ANIMATION 下巻
Release:
26.11.2021
Censored:
Yes
Subbed:
English
Rating:

10.0

29

Tags:
Taichi is told that Sally, who is staying at Onigami Hot Springs, has a question for him, so he goes to the inn.
She wants him to teach her how to feel good about herself, as she is of the human dragon race, which is a sexually dry race.
After having sex with the three of them, Taichi succeeds in producing the prescribed amount of holy milk and gives it to the sleeping Benine and her friends.
They all woke up and rejoiced that they had been revived.
A few days later, Taiichi is summoned as a reward, and what awaits him are Maitou, Yashou and Sally...
Hentai Movie Downloads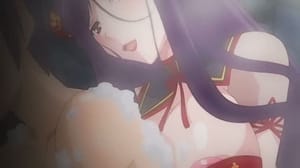 90.49 MB
Related Downloads