Bitch na Inane-sama 03 (English Sub) | Download
ビッチな淫姉さまぁ #3
Romaji:
Bitch na Inane-sama 03
Japanese:
ビッチな淫姉さまぁ #3
Release:
27.08.2021
Censored:
Yes
Subbed:
English
Rating:

9.1

72

Tags:
Takashi and Yumi are enjoying themselves at a hotel while their sister is on an extended business trip.
When they leave the hotel, they happen to run into their cousin Mizuho, who invites them to her house.
While Mizuho's husband and Yumi are in a drunken stupor, Mizuho's first physical examination in ten years begins.
Unlike his older sister, Takashi is serious and respects Mizuho, but she is just as lecherous and disillusioned as his older sister, but when she smells her pussy and sucks his dick, he is powerless to repel her temptation.
They show each other how much they've grown together, and they continue to make love!
When Yumi wakes up from her drunken stupor, she mistakenly thinks that Takashi and his sister are having sex, and when she puts on the secret weapon she brought with her, she inserts it into Mizuki's asshole.
The two are more relentless than she had imagined, and Mizuho finally reaches her climax.
Hentai Movie Downloads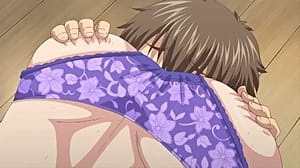 164.26 MB
Related Downloads